Earlier this year Kazu gave me the opportunity to compile questions to be asked during an interview with some of the CB1100F and R Honda designers and engineers in Japan.
Here are the results.
Here are the answers to the questions members here and several other forums I belong to asked to be submitted to the Japanese CB1100R club during their interview with the Honda designers and engineers.
Here are their answers as they were sent to me, bad English and all, plus a couple pics from the interview.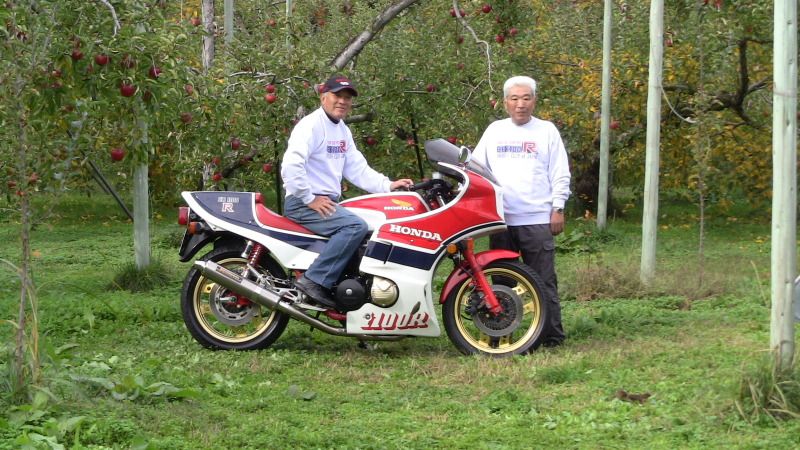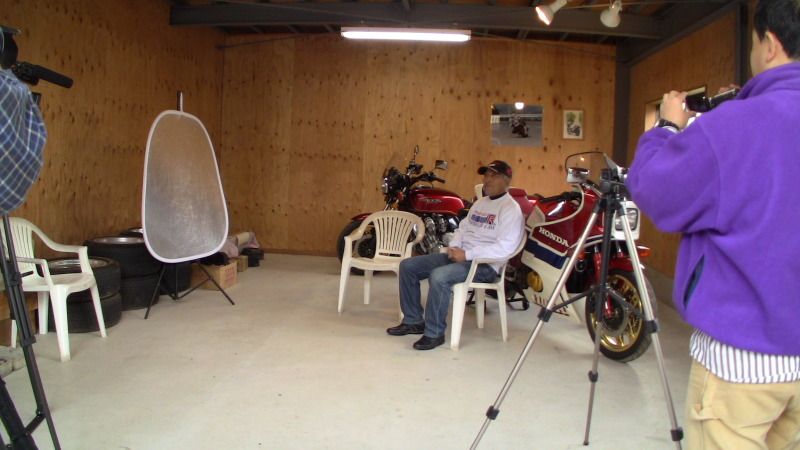 I realize Minoru Morioka will not be able to answer all the questions being asked and you will need to select and edit these submissions but we are very honored for this opportunity
Questions from the CB750/900/1100F forums.
1.(Australia) How important to Honda was victory in the Australian and New Zealand production motorcycle races like the Castrol 6 Hour in the late 70s and early 80s and why?
(A) CB900F made good sales in Euro Market when it started to sell, but two years later, Yamaha, Suzuki and Kawasaki such as competitors released over 1000cc class motorbikes at that time. CB900F and Honda motorbikes had speed down in its sales,,,.
Honda wanted to sell more, we should win in the race again,,,.
In January 1980, Tadashi Kume, president of Honda at that time, made statement for next strategy for Euro market,,,
1) We want to keep the image for customer, that Mechanical skill to produce sport motorbike, Honda is No.1.
2) Sell great performance motorbike over 750cc to market.
3) We must win in the race in Europe.
4) Develop the fairing for CB-F and CBX
We do above four, to win in the Big sports motorbike market.
So we develop CB1100R. On September 13th 1980, we take part in the race at Boldaujan (in France) race. And CB1100R will be one-year only production.
But CB1100R was not produced in time for the race, (I think there are no other race in Europe,,,) so they chose to go to Australia Castrol 6 hours race on Oct 13th. Honda sent three R's and Mike Neal won in C class.
Source…CB1100R Owner's Club of Japan
Often there is speculation that the CB1100RB1 variant had slightly different chassis settings to suit the circuit at which the 1980 Castrol 6 Hour race was held. This seems unlikely given the resolution to compete at the 6 Hour only came about because the bike wasn't ready to race earlier in the year, at an event to be held in Britain. Deleting the RB2 variant fairing seemed appropriate for a race at Amaroo Park but is there any truth to the notion that the chassis settings were similarly tailored?
(A) Chassis are same to all 1100R models.
Source…CB1100R Owner's Club of Japan
During the development of the RB-1, from what point did they realize they needed to add baffles to the fuel tank to eliminate surge?
(A) R has big tank, and Motorbike racers usually have it.
Source…CB1100R Owner's Club of Japan
Exactly how many RB-1's were produced and why are the official numbers so grey?
(A) About 20. We researched but there was no record for production in Honda.
For example, frame # 0000006, but it was RB-2! (Should be RB-1) Very confusing facts we face.
Source…CB1100R Owner's Club of Japan
2.(USA) I would be curious as to why the US version 1100F received the front quarter fairing and the rest of the world did not. Also interested in why the R model never came to North America.
(A) Honda had accord to American dealer's needs I think.
Fairing, foot peg, riding position or height of handle bar also.
Minoru Morioka told that US rider required the riding position.
( I think, Even You like or not, US model was Special spec for US market !! )
Source…CB1100R Owner's Club of Japan
R model was not to go to US, because there was AMA super bike race in US at that time.
The regulation was free to modify, (As you know Freddy's CB900F) so no need to sell the R in US.
In Euro, there was limited modification for race bike and must be soled in the market for homologation, So to win the race in Euro, Honda have to make the needed limited modification racer and sell it.
Source…CB1100R Owner's Club of Japan
3.(USA)I'd be curious on what is his favorite part of the design of the bike. Exhaust, bodywork, engine, etc. Could be how it looks visually or some part they had to design from scratch.
(A) Minoru Morioka told me that he likes the Fuel tank very much. He traced the image to the old Honda racers at Isle of Man.
The capacity grew bigger and had curve for knee grip (Dimple we call). The good function for race and look good (Functional beauty,,,), he likes it.
Could you explain the lineage of the CB1100F and R, from what model did the CB1100's derive from?
(A) (Sorry, the answer is, from CB900F,,,, is it OK. Jeff?)
Who developed the TRAC system and were you satisfied with its performance.
(A) Tetsuo Tsuchida. The first, anti dive brake system was developed for RCB1000, but not used.
Source…CB1100R Owner's Club of Japan
What were the determining factors in choosing the CBX over the CB1100F as Honda's flagship motorbike in 1979's release.
(A) CB1100F was 1983 model, so it can not be flagship motorbike in 1979's, even though they were being developed at the same time.
Source…CB1100R Owner's Club of Japan
4.(Canada) I would like to know how many 1100F's were made and how many went to each market area.
(A) Sorry, We have no idea,,,.
I would also like to know what made them decide to change the design specifically for the US market (Cast wheels and mini-fairing)
(A) Honda had accord to American dealer's needs I think.
5.(Ireland) I have two 1100RB,s one with a frame number in the -- 140's the other in the -- 150's,both were registered for the road in the UK in the last days of March 1981,is it possible to tell if they were made in late 1980 or early 1981.
(A) Sorry, We have no idea,,,.
Both frames show the same inaccuracies where the rail from the rear suspension attachés to the main frame, are all RB's like this or was this corrected along they way.
The frame of my 1100F does not have this flaw.
(A) Sorry, We have no idea,,,.
Is it the case that the tubing for the RB frame is of a higher quality compared to the other CB's of the time.
(A) Yes, it was hand made at special production line by special skilled craftsmen, handmade. And used high-tension steel pile, one piece downtube chassis, so it is difficult to remove the engine,,,.
Source…CB1100R Owner's Club of Japan
One is led to believe that these engines were hand built, is this true and if so to what extent, i.e. was one man responsible for one complete engine or only part there of.
(A) Yes, same as the question as above.
But we do not know about responsible,,,.
Source…CB1100R Owner's Club of Japan
It would be interesting to know when in 1980 the run of these machines started and which numbers were sent where if these statistic are still available.
(A) About 20 as above question,,,.
Were the first ones sent to Australia etc,.
(A) Yes, as above.
Kawasaki ZRX1100/1200 forum Questions,
1.(USA)Why was the 1100F only one year and why did the F bikes end?
(A) On oct 2nd 1980, Shoichiro Irimajiti made statement that Honda wanted to develop new Technical innovation.
As you know it was V4 liquid cooled engine.
So Honda gave away the inline four engine for race that Honda grew it,,, to V4 machine.
Source…CB1100R Owner's Club of Japan
2. I always thought Honda had the best use of red, white, and blue color schemes - the 1100F and the VF RWB paint are classic works of art in addition to the cycles themselves
Is that an American sales tactic or an aesthetic choice by the manufacturer ?
(A) Minoru Morioka told me that legendary color for Honda racer was Red and Silver. (As you know)
He changed the color to tricolour,,,,.
80's Morio Sumiya who was Honda race rider and died at the race in Europe. He put the blue line on the Red fuel tank by his taste.
Minoru felt sad at his death and he wanted to put Morio's soul, so Minoru used the tricolour,,,,.
He was said that "it is not Honda color!" but President Kume said O.K. then he started to use it.
At first, HERT Honda Endurance Racing Team used tricolour, and had spread to sport bike.
3. I seem to remember reading that the greatest complaint for the CB1100F was the clutch basket RPM.
(A) Yes, many F's problem.
Designed for a 750 and enlarged to an 1100 the clutch basket spun so much faster than other liter bikes that it caused premature clutch wear and chatter, why wasn't this addressed during the design period.
(A) Sorry, We have no idea,,,. But it was the best way at that time,,.
4.Why did the US CBX and 1100F not get the "Sport Kit" like the rest of the world?
(A) As above,,, Honda had accord to American dealer's needs I think.
Suzuki Hayabusa Forum Questions,
1.(USA)Why did they stick with the primary chain for power transfer,
Why a primary chain/jack shaft instead of a primary gear design?
(A) Sorry, We have no idea,,,. But it was the best way at that time,,.
2.Why were the connecting rods so minimal?
(A) Sorry, We have no idea,,,. But it was the best way at that time,,.
Well thats it folks, hope this shed some light on the questions you all had, the Japanese CB1100R Club were honored to be able to answer your questions the best they could.